Black light emitting ink(Hide Tech Color)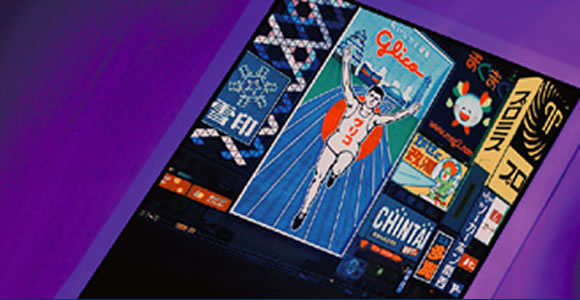 Example

Trading cards

Inspection tag

security painting
The printed matters using our <Hidetec Color>
become luminescent colorfully when
irradiated with black light.
BL luminescent ink <Hidetec Color> is an ink which uses the BL luminescent pigment based on unique technologies developed by Kuboi. The printed matters using our <Hidetec Color> become luminescent colorfully when irradiated with black light.
Use of <Hidetec Color> adds high value to the printed matters, and enables you to produce printed matters inimitable by other companies, depending on the combination with other special inks.
The following types are prepared for <Hidetec Color>. Please select the type in accordance with the desired application.
Application
Prevention of forgery of securities, including coupons for goods, stock certificates, etc.
Novelty goods (catalogs, posters, trading cards, seals, etc.) in facilities where BL lamp can be installed.
Type
UV offset ink
Sheet-fed offset ink
UV screen ink
UV flexo ink
Number of Colors
| | |
| --- | --- |
| Red: | Luminescent spectrum 615-620 nm, Maximum excitation spectrum 330-370 nm |
| Green: | Luminescent spectrum 510-520 nm, Maximum excitation spectrum 400 nm and 475 nm |
| Blue: | Luminescent spectrum 433 nm, Maximum excitation spectrum 310 nm and 385 nm |
Recommended Printing Conditions and Precautions
Please apply the ink as thickly as possible, because a thickly applied ink becomes luminescent more effectively.
The ink, when not BL-luminescent, is almost transparent. The color materials left on the plate, blanket, roller, or any other thing may come out in the Hidetec Color Ink when printing. Please wash out such color materials carefully before starting the printing.
This ink becomes luminescent when the BL luminescent pigment in it reacts to the light of Black Light. There is a variety of paper that reacts to Black Light among printing paper (especially coated paper). Please confirm the paper before selection.
The ink has a very weak weather resistance. Please be careful for the application.
Delivery Term
Two - three weeks after receiving of the order.
All products are produced by orders. The minimum order size is 1 kg.
There may be a case that we cannot produce the ordered item due to out-of-stock of material or other reasons. Please contact us before placing an order.
* This document was prepared based on examination of data that is considered to be the most reliable in our company, which are, however, examples cited for your reference. Users are requested to examine them before using. The figures stated above are standard values in our company, but not guaranteed values.
* When using the product, please verify its suitability for your conditions of use.
* Patents are applied for a variety of printed matters and novelty goods using these special inks. We do not guarantee that the examples of usage and the text of this document do not infringe any patent.
* Before handling or using these inks, please read the Material Safety Data Sheet (MSDS).
*The product is subject to change without prior notice for the improvement.